Is it worth investing in an oil press?
Sell fresh pressed oil in the farm store


You're looking to buy an oil press? It's never been easier and you can now make your own cold-pressed oils with our electric cold oil press. Sell the fresh pressed oils in your farm store each day, which will convince new customers of its amazing quality compared to mass produced products from supermarkets, while benefiting from regional trendiness and popularity for freshly made food items. We offer different sizes of presses so it is easy to operate them as well as clean up after use.
The production, bottling and selling of oils is easy to do without any complicated techniques or expensive investment. Oils are one of the foods that can be processed easily with a shelf life around 6-9 months. The bottling process for oil could take place directly after pressing it into bottles or phase in sedimentation which would reduce oxidation rates while also allowing you to get your product on shelves quickly.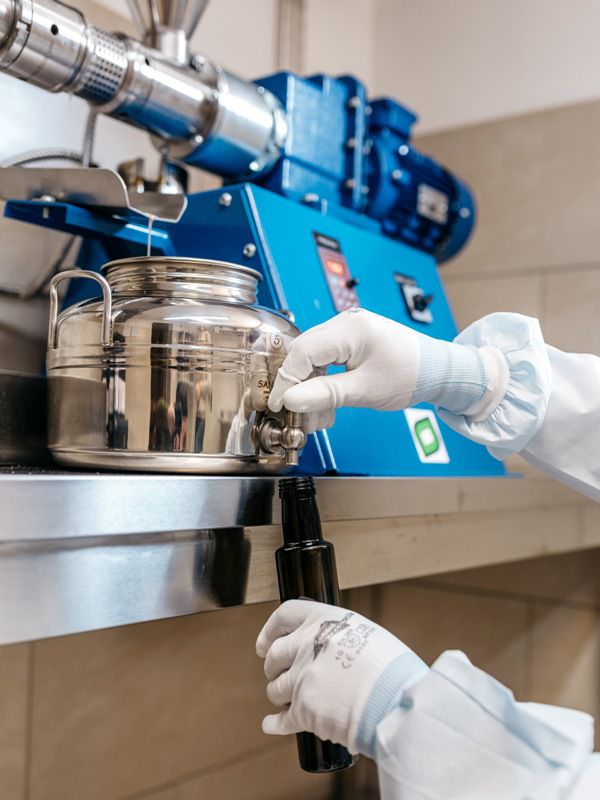 Frequently Asked Questions
Do I have to take a course to press oil?
Before you buy an oil press, we offer a demonstration and explanation of the machine's functions. In our detailed instruction manual, each step is explained in detail so that even beginners can easily learn how to use it after just several minutes. Our machines are designed with intuitive controls which make them easy to operate for anyone who has some experience using kitchen appliances or any other equipment found around the home or office like sewing kits and electric drills.
What can you do with the press cake?
Freshly pressed oil seed is already directly compressed into pellets straight away. Depending on the type of seeds, it has a residual oil content between 5-12%. The freshly pressed pellets are ideal for food supplementation due to its many fibers and high protein contents. They can also be further processed as flour which can then used when baking things like cookies or breads.
How much space is required?
The Cold Oil Press FX20 needs an are of just under 90cm x 60 cm and the Cold Oil Press FX40 needs an area of alsmost 104 cm x 60 cm. Both oil presses are about 80 cm high.
Would a small oil press be worth it for my farm shop?
If you are looking for a cold pressed oil and want to make your own, we can help! We have helped many people along the way with their new production line. Our small producers are so proud of how they've invested in these systems that it is wonderful seeing them use their creativity when putting plans into action. If you're interested in buying an oil presser, feel free to contact us - free and no obligation!
Which oils can I make?
A delicious variety of cold pressed vegetable oils can be produced by pressing different types of nuts and seeds, such as walnuts, hazelnuts, canola seeds, flax seeds, hemp seeds or sunflower seeds. For example, you could also press coconuts for cold-pressed coconut oil that is rich in medium chain fatty acids which are known to reduce cholesterol levels when consumed often enough.
What does cold-pressed oil mean?
Cold pressed vegetable oils are produced with no heat input and solely through mechanical processes. For example, using a screw press. According to the definition in the guidelines for edible fats and oils this definition says nothing about temperature created during pressing but our oil presses always operate at an extremely low 36°C - 40°C range well below limits set by some guidelines recommending not more than 60°C. Leitsätzen für Speisefette und Speiseöle sagt diese Definition jedoch nichts über die Temperaturen aus, die beim Pressvorgang entstehen. Mit unseren Ölpressen pressen Sie allerdings immer in einem sehr niedrigem Temperaturbereich von 36°C – 40°C. Das liegt weit unter den Grenzwerten für Naturkostöle von 60°C.
How expensive is an oil press and the investment costs?
We offer different models of oil presses. The smallest model starts at just over 2,500 EURs. Our oil presses are known for their best price-performance ratio and we're happy to provide you with a custom quote as well! We go into detail about your needs because it requires some prerequisites before processing oils so that's why we aren't like any other online shop but rather stand for an extensive consultation where the customer is always our priority.
How much maintenance is an oil press?
An oil press consists mainly of the mechanical pressing head which is attached to a gear and an electrical motor. Below the oil press, there's stand of the oilpress with all its electric components such as digital thermostat, digitized speed regulation switches and on-off switch. After each time you use it, you should clean the machine in order to keep efficient so this can be done easily
Let our team of experts provide you with a noncommittal offer and an extensive consultation.
(089) 21537785

Address Schellingstrasse 153, 80797 München, GERMANY
Email verkauf@oeltech.com